Description
Macro Engine

⭐️⭐️⭐️⭐️⭐️
Undetected No Recoil Macros
Ever dreamed of controlling your recoil like a pro? 🥇
Today is your day! Start owning with LEGIT HELPERS no recoil macros in any game you'd like to play.
Our Macro Engine gives you the perfect tool you need to succeed in shooter games like Valorant, RUST, Call Of Duty, PUBG, CSGO etc.
While our macros/scripts control the recoil, you can start focusing on the main important thing: Killing your enemies!
The Macro Engine: Simple but deadly 🥇
Our Macro Engine was designed to offer the best usability and security for our users possible.
Download, install and either choose macros from our database or quickly create your own. Using macros was never this simple.
For professional users we offer several advanced features to get the most out of macros ever possible.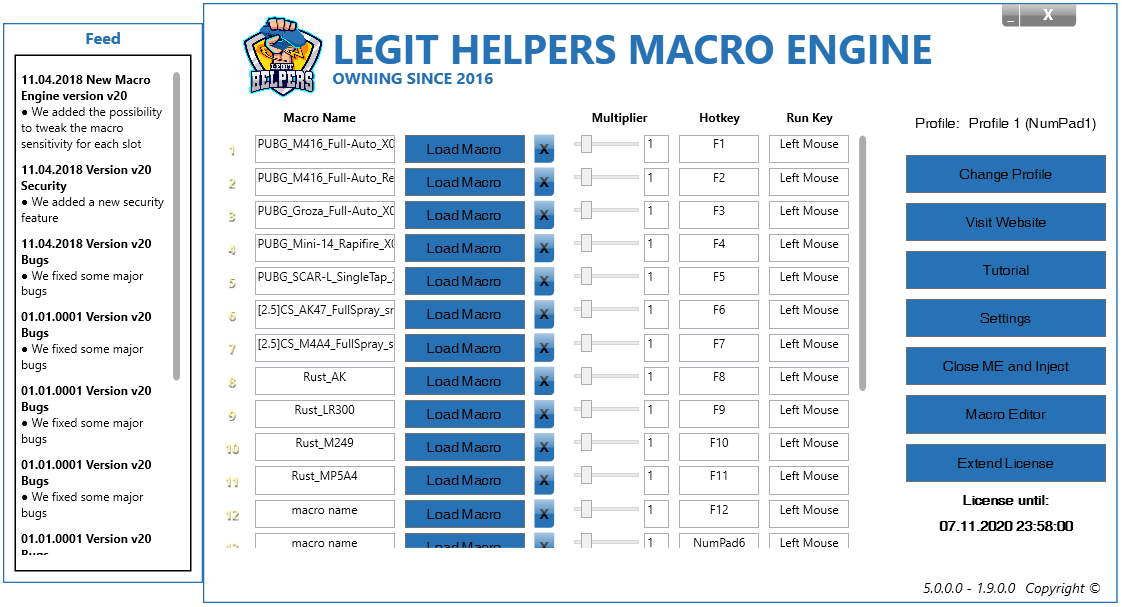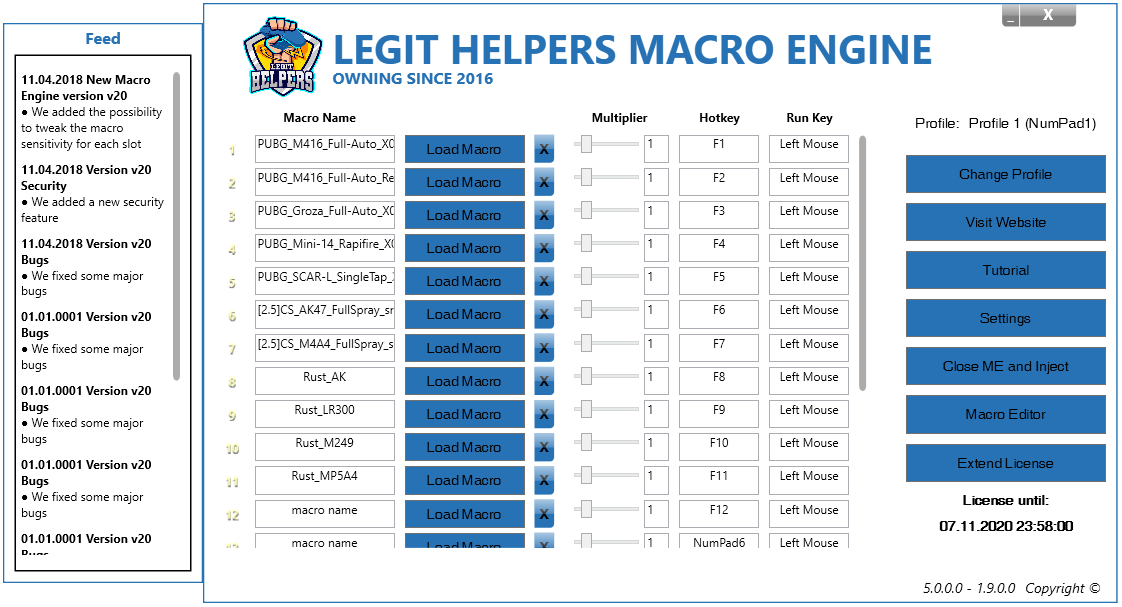 Our Macro Editor: Create your own macros 🥇
We are one of the only Macro softwares world wide who offers our users the opportunity to quickly create their own macros for any game.
You don't like a specific macro from our database or we don't support a specific game you'd like to use macros in?
While this is an issue for most other providers it's no issue for Macro Engine users. With our Macro Engine you also get full access to our Macro Editor.
Easily create your very own no recoil macros for any game you like, perfectly fitting your specific in-game settings. There is no limit.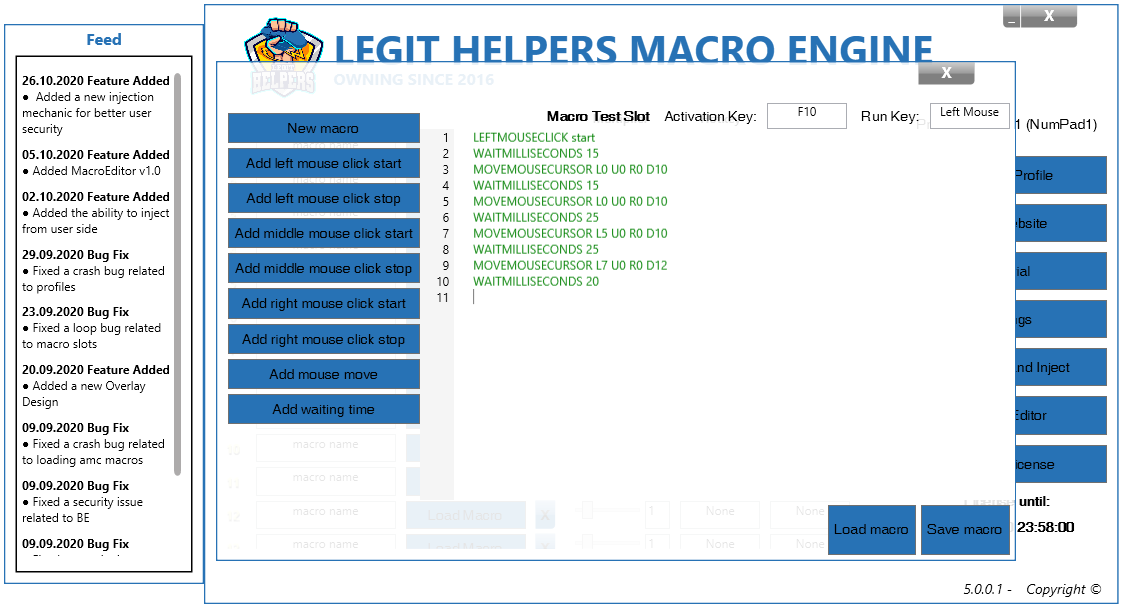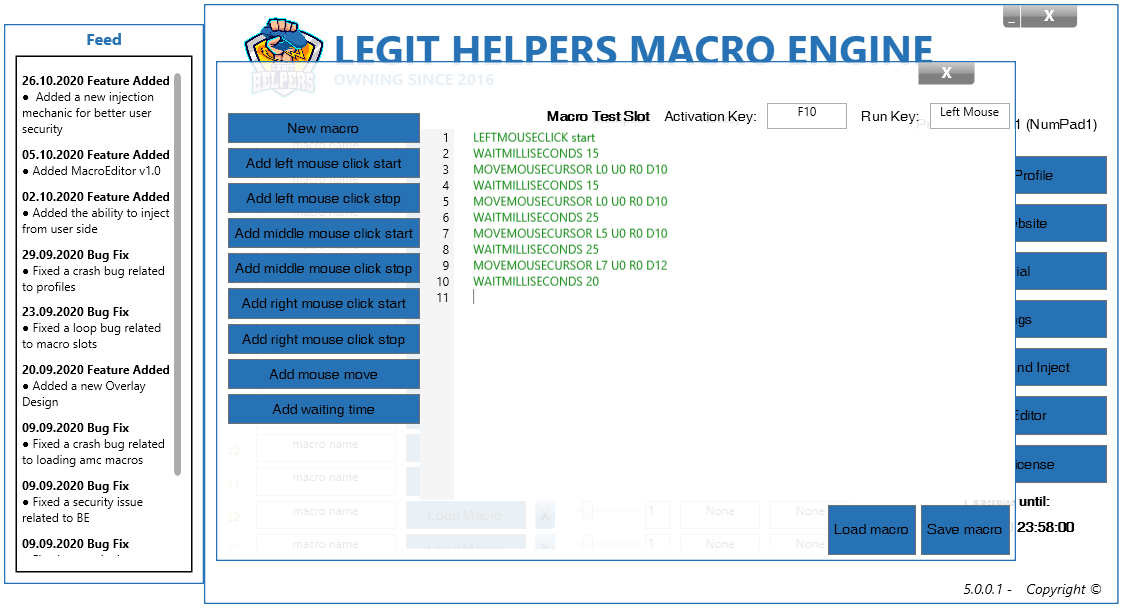 Top security with minimum detection risk 🥇
While Aimbot and ESP cheat providers run into detection issues frequently,
macro users have the lowest detection risk of all cheat tools.
The Macro Engine software runs fully apart from your game, only sending commands to your mouse.
This makes using our macros almost impossible to get detected and is the reason why we have been
undetected on almost all games we support since 2016.
Compatible with your hardware 🥇
The Macro Engine only requires Windows 10 or Windows 11(Valorant macros need Windows 10!) to run.
Regarding your hardware there is no restrictions. Whatever CPU, GPU, mouse or keyboard you are using, the Macro Engine works with that.
The software will only ever interact with your mouse and keyboard, making it not only secure but also
compatible with all user systems which run Windows 10 or Windows 11.